Nomadic Children
In the elephant-roaming head waters of Mahakanadarawa irrigation reservoir in the North Central Province, there is a group of people who are called Ahikuntikas camped out under the shady Mila trees. These are nomadic people closely resembling the life style of Gypsies, but not in all aspects. They are snake charmers, palm readers, hired sometimes to do menial jobs such as cleaning lavatory pits. This particular group has been under these trees for about eight years. A general description of this ethnic group can be found here .
They are uneducated, and nomadic life and social ostracism has forced them to live an extremely underprivileged state:
No homes - they only have coconut-thatched shacks
Most do not have birth certificates or National identification
Most of the children are unable to go to school
No furniture
Our work with the Ahikuntika village:
With the help of our coordinators of this program in Sri Lanka, Mr. Aruna Shantha and Mr. Lakshman Hemantha Seneviratne (Public Health Inspectors in the area) we were able to:
Get 22 children of these families admitted to Siyambalaguswewa, a local elementary school
Provide school supplies and clothes
Provide chairs and desks so they can do homework under the shades of trees.
This work was made possible by the award money that Mihiri received from L'Oreal Paris and TeenPeople.
This is still a work in progress. In July 2006, we met Public Administration officials in Sri Lanka, who promised to grant them special Birth Certificates. Upon request by our group, the Forest Conversation Department had initiated a process to demarcate land nearby for a housing project that we will help to implement. We have received 3 pledges already from donors to build houses. The estimated cost is about $2,000.00/house.
Here are some of the pictures of the ahikuntika camp and its kids.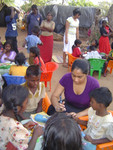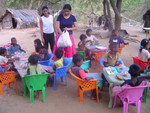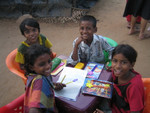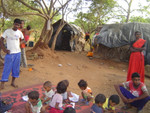 Check out our Photo Gallery for more!